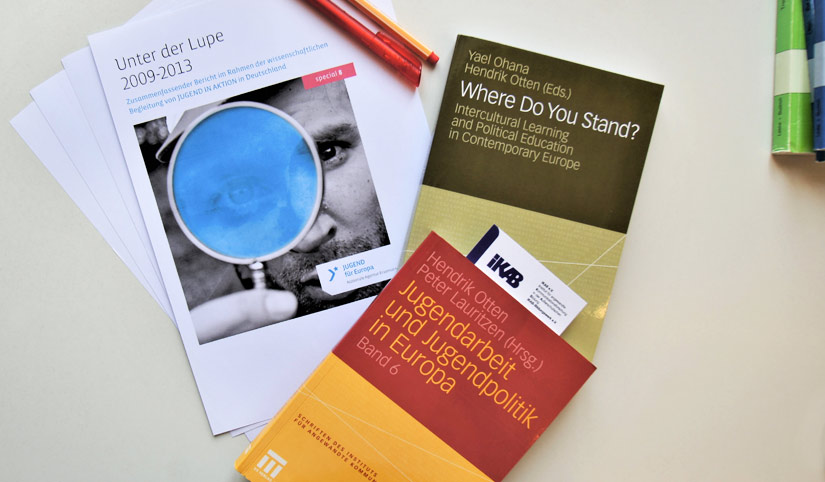 Monographs
IKAB e.V. edits a series of monographs:
Volume 7

Yael Ohana / Hendrik Otten (Hrsg.): Where do you stand? Intercultural Learning and Political Education in Contemporary Europe, Wiesbaden 2012

Volume 6

Otten, Hendrik / Lauritzen, Peter (Hrsg.): Jugendarbeit und Jugendpolitik in Europa, Wiesbaden 2004.

Volume 5

Otten, Hendrik / Treuheit, Werner (Hrsg.): Interkulturelles Lernen in Theorie und Praxis. Ein Handbuch für Jugendarbeit und Weiterbildung. Opladen 1994.

Volume 4

Sternecker, Petra: Kulturelle Identität und interkulturelles Lernen. Zur entwicklungspädagogischen Relevanz der Kritischen Theorie. Opladen 1992.

Volume 3

Treuheit, Werner / Janssen, Bernd / Otten, Hendrik: Bildung für Europa. Interkulturelles Lernen in Jugendbegegnungen. Opladen 1990

Volume 2

Treuheit, Werner / Otten, Hendrik: Akkulturation junger Ausländer in der Bundesrepublik Deutschland. Probleme und Konzepte. Opladen 1986.

Volume 1

Otten, Hendrik: Zur politischen Didaktik interkulturellen Lernens. Ein Planungskonzept für internationale Jugendarbeit. Opladen 1985.
Otten, Hendrik; Ohana, Yael: The eight key competencies for Lifelong Learning: an appropriate framework within which to develop the competence of trainers in the field of European youth work or just plain politics? SALTO,
Bonn: September 2009. PDF
Otten, Hendrik: Zehn Thesen zum Zusammenhang von europäischer Jugendarbeit, interkulturellem Lernen und Anforderungen an haupt- und nebenamtliche Mitarbeiterinnen und Mitarbeiter im Hinblick auf ihre Qualifizierung und Professionalisierung ihrer Arbeit. Europarat/Europäisches Jugendzentrum Budapest: Februar 2009. PDF
Otten, Hendrik, Ohana, Yael, Karsten, Andreas: Born in Flensburg – Journeyswith Peter Lauritzen. IKAB in cooperation with Frankly Speaking Berlin: September 2008
Mütter, Annette: Non-Formal Youth Work – Quo Vadis? The Implementation of EU Youth Policy on Non-Formal Education and its Impact on National Youth Policy and Youth Work in Germany. Abschlussarbeit im Rahmen des Masterstudiengangs Comparative European SocialStudies. HogeschoolZuyd, Maastricht: September 2008. PDF
Otten, Hendrik: Interkulturelles Lernen als politische Bildung in der europäischen Zivilgesellschaft. In: Günter J. Friesenhahn, Andreas Thimmel (Hrsg.), Schlüsseltexte. Engagement und Kompetenz in der internationalen Jugendarbeit. Wochenschau Verlag, Schwalbach/Ts. 2005.